Body Neutrality focuses on what your body can do for you, rather than on what it looks like.
This #ODDgives class, led by ODD teacher Jasmynn Vaughan, is for all shapes and sizes to move with the intention of thanking your body for this practice and allowing your practice to look however it needs to in YOUR body. All proceeds go to Fitness4AllBodies, suggested donation of $5-$30.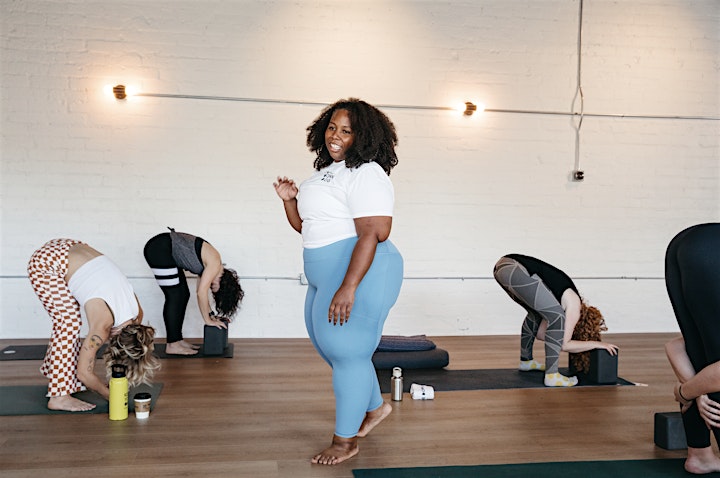 About ODDGives
ODDGives is a program created to elevate diverse voices and give back to underserved communities. These classes are both fundraiser classes for a non-profit of the teacher's choosing and/or affinity classes for students from historically marginalized communities. Holding these classes is something we've done at ODD for years, but we've re-committed to them in 2023, with the new name and a minimum commitment of at least one offering a month.
About Jasmynn
"My goal is for students to leave with a deeper connection to and love for themselves, ways to make their practice accessible, and confidence that any body and I mean ANY BODY can do yoga. Yoga, to me, has been a way to love the body I have and celebrate the strength it provides for me every day. Come celebrate with me!" Read more >>
Proceeds to goFitness 4 All Bodies
Fitness4AllBodies teaches coaches, gym/studio owners, and people in the fitness industry to better understand how our bodies are connected to systems of oppression, how those systems are reinforced by the fitness industry, and how to develop a social justice lens and apply it to their work. Learn more >>
When and where
Sunday, July 23 · 5 - 6pm 
At One Down Dog - Echo Park, 319 Glendale Boulevard, Los Angeles
All proceeds go to Fitness4AllBodies, suggested donation of $5-$30
Limited capacity, pre-registration required.